If someone told me this was gonna happen, I would have said that would be a dream. I never met anyone so pure of heart and amazingly talented as Mitchell Kummen. He's funny, kind and just wonderful to be in the presence of his company.
Having lunch with Mitch and Karen was the most happiest day of my life. They will never know how much it meant for me to just hear everything we talked about and just enjoy being there. I brought my mom and my daughter with me so it was nice to have them along, I was so very nervous to meet Mitch. I could hardly eat, but now that I got to meet him and hang out for the day. He is so normal you wouldn't think he is a celebrity. I have to admit he is taller than I expected, but it was so nice of him and Erik to give me a signed poster with both their names on it. It meant a lot to me. I support those two wholeheartedly.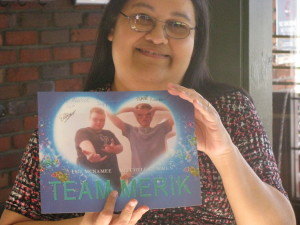 After lunch, we had a photo shoot and as we took photos it was so fun to do those. I had never done that before so I laughed pretty much all the way through it as Mitch had us pose in different styles. The one of us holding up our hands was actually in a dream I had so I know we had to do that. But that day was glorious. The one thing I will remember fondly is the hugs from Mitch. He's a good hugger and I don't even know if that is a word, but he is the best at it. He radiates the glow of his talent and I don't know how to mention this but he has a glow about him that shines in his personality. He's special in my heart and has been since the day I started working on this site for him.
I had him sign both my book and blu-ray of Horns. He wrote me a special message inside my blu-ray cover and what he wrote is. "Thank you for everything you do." That message for me was priceless. Thank you Mitch and Karen for such a spectacular day. I will cherish those memories always.